Q & A with Viveca
Q & A with Viveca Sten in September 2015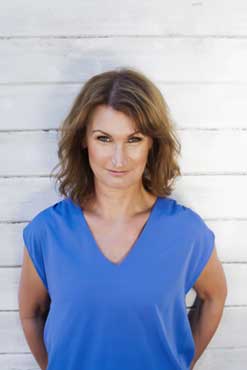 Foto: Caroline Andersson

Could you tell your readers more about"Still Waters"?
- It's a hot July morning on the island of Sandhamn in the Stockholm archipelago when a man walking his dog makes a gruesome discovery: the body of a man, tangled in fishing net, has washed ashore. Police detective Thomas Andreasson from the mainland is the first to arrive at the scene. The man is soon identified as a Krister Berggren: a bachelor who has been missing since Easter. Nothing indicates foul play until a woman is found brutally murdered at the local bed-and-breakfast. It turns out she is Krister Berggren's cousin.
Luckily Thomas's childhood friend, lawyer Nora Linde who lives in Sandhamn comes to his aid. Together they take on the seemingly impossible riddle while at the same time trying to make sense of their troubled personal lives

Why did you choose to write a series of crime novels?
- I have always enjoyed crime novels, maybe it is because I am a trained lawyer. When I decided to write a book of fiction after several non-fiction legal books, it seemd to be the natural thing to do.

Is there a special reason why all your books are set in the Stockholm archipelago?
- My family have spent all their summers on the island of Sandhamn about two hours from Stockholm. We have actually had a house there for almost a hundred years. When I began writing, I wanted to put my favourite place on earth at the center of my stories.

What do you think of the enormous success of your books? Three million copies sold worldwide in twentyfive countries, thirty million have watched the tv-series Sandhamn Murders in all of Europe.
- I think that it is absolutely wonderful. I had no idea that they would become so successful, but I am absolutely thrilled about it. So far five books in the series have been turned into miniseries and topped the TV-charts. It is quite overwhelming.

Can you tell the story of how you found a publisher for your crime novels and describe your own role in that?
- Once I had completed my manuscript I spent months trying to work up the courage to submit it to a publisher. Finally I decided to send my manuscript to three different publishing houses – I actually picked them from books that stood in my book shelf!
- When Forum, my Swedish publisher called me in december 2006 to say that they wanted to publish my book I could hardly believe it. I called my husband to share the good news and when he said he would buy a bottle of champagne to celebrate, I heard myself saying: "But what if they are only kidding?"!

Personally, who are your favourite crime writers?
- I am asked this question all the time, but I find it impossible to answer. I have many, many favourite books, also authors, films, you name it. How can I compare two authors to each other? Each and every one is unique! But one novel that I like very much is Shutter island, by Dennis Lehane.

Is it necessary to read your books in order of appearance?
- It isn´t necessary, but it does help, as the main characters develop throughout the series.

Dark secrets and heated emotions float to the surface in your books. Suspense, relational problems and archipelago setting, all in a great mixture. Does this have anything to do with your personal life?
- In all honesty, most of the intrigue is made up. But since my husband and I have juggled two high-profiled careers and three children for quite a long time, I am no stranger to the mechanics of different priorities and emotions running high.
- Furthermore, as many authors, I have very large ears and I listen intently whenever people share their secrets. I would never abuse anyone´s trust, of course, but I certainly store the information.

How do you combine writing and being a mother of three?
- I am, in fact, an excellent administrator! I really am very good at organizing things and this is probably the secret behind it all. Although, to be honest, I also have my moments when everything completely falls apart and I wonder if I am totally crazy to try to do all the things that I have on my schedule.
- Also, I truly enjoy writing. I believe that when you really enjoy something, then you find the time to do it. I have friends who will get up at six in the morning to do yoga, or spend time at the stables with their horses.I would never do that, but I can get up att six to write my books!

Who is your favourite character in your books so far, and why?
- Hmm, tough question. I have deliberately turned Nora into a completely different person than myself. I am very fond of Thomas, of course, but I think that the one that has really captured my heart is a person who doesn´t turn up until the third book in the series – Thomas' ex-wife Pernilla.

Are you already writing another novel and can you tell us what it will be about?
- I have spent this summer at Sandhamn writing the eight book in the series. It is called "In the name of truth", and it takes place a week before midsummer. Seventyfive children are gathered at a sailing camp on an island next to Sandhamn, then one of them disappears ...